Taking glucose-lowering medications is a very important part of taking control of your diabetes and living a longer, healthier life. The medications that may be prescribed by your doctor will depend on the type of diabetes you have.
For type 1 diabetes, insulin is always needed to replace what your body no longer produces.
Type 2 diabetes is a progressive condition. Although this condition may be manageable in the beginning through diet and exercise, medications will likely be added to help aid the body as diabetes progresses. Eventually insulin replacement may be needed if your body does not respond to other medications.
What Drugs Treat Diabetes and How Do They Work?
Injectables
Insulin replaces what your body is no longer making. Types include Rapid-Acting, Short-Acting, Intermediate-Acting, Long-Acting and Mixed.
Non-Insulin Injectables work to increase the amount of insulin your body makes at mealtimes and these injectables make you feel fuller sooner. Drugs include Exenatide (Byetta®), Exenatide ER (Bydureon®), Liraglutide (Victoza®) and Pramlintide (Symlin®).
Oral Medications
Pancreas - Increase the amount of insulin made
DPP4 Inhibitors increase the amount of insulin your body makes after eating a meal and make you feel fuller sooner when eating. Drugs include Alogliptin (Nesina®), Sitagliptin (Januvia®), Saxagliptin (Onglyza®) and Linagliptin (Trajenta®).
Glinides increase the amount of insulin your body makes after eating a meal. Drugs include Nateglinide (Starlix®) and Repaglinide (Prandin®).
Sulfonylureas increase the amount of insulin your body makes. Drugs include: Chlorpropamide, Tolazamide, Tolbutamine, Glyburide, Glipizide, Glipizide ER and Glimepiride.
Liver and Muscles - Enhances how insulin works
Biguanides stop your liver from producing too much sugar when it is not needed. Drugs include Metformin, Metformin ER, Glumetza® and Rio‑met®.
Glitazones make your muscle cells more responsive to insulin. Drugs include Pioglitazone (Actos®) and Rosiglitazone (Avandia®).
Stomach - Decreases the amount of sugar absorbed into the blood stream
Alpha-Glucosidace Inhibitors stop your body from breaking down complex sugars into glucose at mealtimes. Drugs include Acarbose (Precose®) and Miglitol (Glyset®).
Other
Bile Acid Sequestrants lower blood sugar but how is unknown. Drugs include Colesevelam (Welchol®).
Sodium-Glucose Cotransporter-2 Inhibitors help to rid the body of extra glucose in the urine. Drugs include Dapagliflozin (Farxiga®), Canagliflozin (Invokana®) and Empagliflozin (Jardiance ®).
Dopamine Agonists lower blood sugar but how is not well understood. Drugs include Bromocriptine (Cycloset®).
Inhaled insulin replaces insulin in your body just as injectable insulin, but is breathed in rather than injected. Drugs include (Afrezza®).
Getting to Know Your Insulin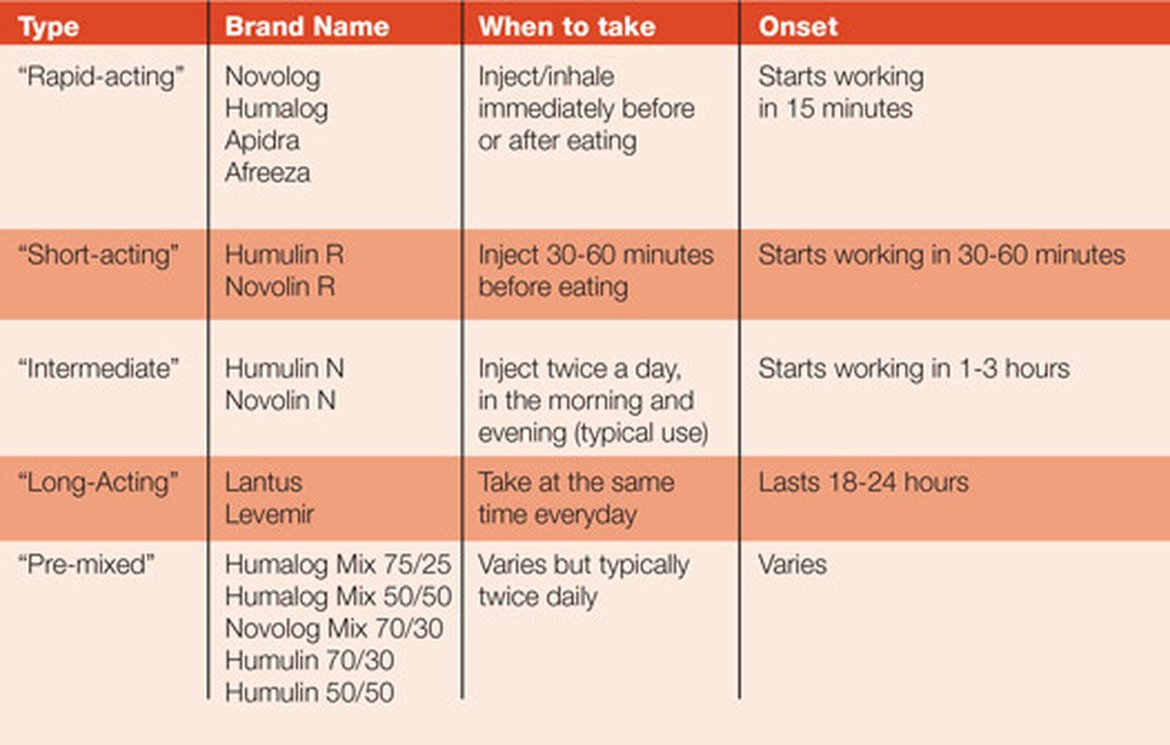 Combination Medications
Combinations are a great way to receive the benefits of multiple medications and have less pills to take! However, these medications are typically reserved until you become stable on multiple medications. Ask your pharmacist or doctor if there is an available combination medication based on the medications you are taking and if one would be right for you!